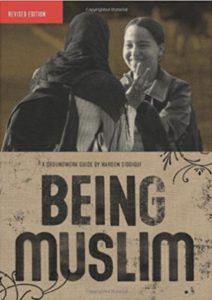 The book Being Muslim is a slim volume that provides an overview of key contemporary political and social issues. This book is a cross-cultural attempt toward understanding.
We will read and discuss Chapter 3 at this meeting at the NM Islamic Center, 1100 Yale Blvd. SE, Albuquerque. The chapter covers the role of the mosque, daily prayers, festivals, charity, fasting, pilgrimages, halal and haram (what's permitted and what's prohibited), the Qur'an, Prophet Muhammad, and offshoots of Islam. The meeting will be held 5:30 to 7:00 p.m. on Thursday, January 18. Here's an Amazon link to buy and read more information about the book here.
Long a charged topic in the West, Islam has become incendiary since 9/11, drawing heated reactions from both defenders and critics. The two sides rarely talk, and when they try neither seems to listen. Equally helpful for Muslims and non-Muslims, this book is a cross-cultural attempt to bridge these worlds. Based on the author's travels in Muslim lands and his interviews with experts, Being Muslim examines the impact of terrorism on Muslims and explains how Islam works in the daily lives of believers.
Author Haroon Siddiqui dissects the Western media's treatment of Islam and Muslims, shows how extremists are being challenged by a new Islamic generation, and tackles the controversial topics, from terrorism to the treatment of women, that have been used to mischaracterize Islam and its adherents.